Probably, you have heard about Robinhood app on YouTube or how popular it became during the months of COVID-19 lockdown in 2020-2021, when many retail investors turned to investing through the application.
For beginners, Robinhood is an easy-to-use US investing app. With them, the concept of commission-free trading in financial products began, along with its biggest competitors, Webull, TD Ameritrade and E*TRADE. Now, you most likely want to know if it is available in the United Arab Emirates, right?
If you want to know if Robinhood is available in the UAE, its expansion plans and the alternatives currently available, you are in the right place, keep reading!
Is it possible to invest in Robinhood from the United Arab Emirates (UAE)?
The answer, unfortunately, is no. Robinhood does not operate anywhere outside of the United States or Puerto Rico (legal resident required). In fact, the only way to do it without meeting this requirement is to be an active-duty military resident abroad. On the other hand, the company had planned its expansion to other countries, but it was postponed due to the COVID-19 pandemic and it has not been reported to resume those expansion plans.
Therefore, if you live in the UAE or any other country other than the United States, you will not be able to open an account.
It is important to note that many Youtubers and other content creators promote the Robinhood app to reach Arab viewers and users living in the United States.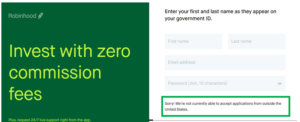 Alternatives to Robinhood in the United Arab Emirates (UAE)
We are going to give you some alternatives to Robinhood in the UAE. Please, note that these options are based on our knowledge and experience in this field and we believe that they are the best options available in the UAE market. To conclude that they are good options, we used the following criteria: the regulators that oversee the platforms, customer feedback, the ease of use of the platform, accessibility for UAE investors and, of course, something fundamental: costs.
eToro: Commission-free stock and ETF trading. You can also copy other traders/investors.
Interactive Brokers: Founded in 1978, IBKR is one of the most trusted brokers in the world. It offers a huge range of financial products (stocks, ETFs, options, etc.) and low currency conversion rates. Interactive Brokers also launched IBKR GlobalTrader, a modern mobile app for trading stocks, options and ETFs, ideal for beginning investors.
Freedom24: A broker well-known for its exclusive feature of IPO subscriptions for individual investors (previously accessible only for institutional investors). It also offers stocks, ETFs, bonds, futures, and options on major American, Asian and European exchanges.
Plus500: Is one of the leading CFD brokers. It offers no commissions when trading CFDs in Indices, Forex, Commodities, Cryptocurrencies, Shares, Options and ETFs. It also recently launched Plus500 Invest for those who want to invest in real shares.
XTB: One of the world's largest stock exchange-listed brokers, XTB provides traders access to hundreds of markets through forex, indices, commodities, CFDs, and cryptocurrencies. It also features low spreads and commission-free trades.
Conclusion
Unfortunately, we confirm that Robinhood is not available in the UAE. However, there are other viable and good alternatives that can be considered by UAE investors. Those discussed and analyzed are: eToro, Interactive Brokers, Plus500, Freedom24 and XTB.
Each of these platforms has different features and services that may be attractive to different investor profiles.