Hello, fellow investor! In this article, we are going to give our unbiased review of the Interactive Brokers investing platform for users residing in the UAE. It is one of the largest global brokers, well-renowned for its longevity (founded in 1978) and reputation.
We are going to analyze Interactive Brokers' features, along with their pros and cons. Interactive Brokers offers a wide selection of financial products, including stocks, bonds, ETFs, mutual funds, currencies, options, CFDs, and futures. It does so by giving you access to over 150 global markets while charging reasonable commissions and offering low spreads and currency conversion fees.
The platform's desktop application IB Trader Workstation (TWS) and the web-based application Client Portal are mostly geared toward the professional user, but the mobile trading app IBKR GlobalTrader is easier to navigate in, even for beginner investors. Overall, it is a well-balanced platform for investors both starting out and having experience in the field.
By the end of this article, you will have a detailed overview of Interactive Brokers which will help you decide if it is a suitable investment platform for you.
What is Interactive Brokers?
Interactive Brokers (IB) is a global brokerage platform founded in 1978 and headquartered in New York City, US. It has over 2 million clients in over 200 countries and currently supports 24 base currencies (including AED). The company is also listed on the NASDAQ stock exchange under the ticker IBKR.
It has been chosen as the broker of the year multiple times by recognized financial institutions such as Barron's and web platforms such as Investopedia. See the full awards list here.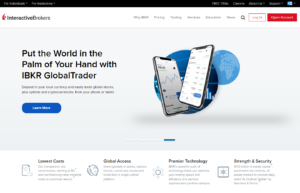 While it started out as a platform most geared toward investing professionals, Interactive Brokers has become an accessible platform in recent years. A minimum deposit of $0, no inactivity fee, and a modern and simple-to-use mobile app have all contributed to this development. That being said, the platform can still have a steeper learning curve than some of its competitors.
The choice of financial products is wide, including both basic and advanced investments such as stocks, bonds, ETFs, mutual funds, currencies, options, CFDs, and futures, but not cryptocurrencies.
In summary, Interactive Brokers is a well-balanced platform and a good choice for global investors of various experience levels.
Pros and Cons
Pros
👍Reputable, publicly listed, and well-regulated company
👍Wide choice of financial products and global markets
👍No inactivity fee
👍Low commissions, currency exchange fees, and trading spreads
👍No minimum deposit ($0)
👍Available as desktop, web, and mobile-based application
👍Educational resources and tools for investors
👍Advanced features: different order types, margin trading, research and analysis tools
Cons
👎Higher learning curve than some other platforms
👎More complicated account opening and fund depositing process than average
👎Complicated fee structure
👎Cryptocurrency trading not available
👎No Islamic swap-free account
👎Fractional trading available for US stocks only
Fees
Interactive Brokers offers two distinct account types which influence the fee structure: Tiered and Fixed. The Tiered account fees are usually lower for relatively smaller trades, while the Fixed account may be cheaper when dealing with larger sums. Fees also vary across different markets and financial products. Below we have listed the fees for the US markets:
| | | |
| --- | --- | --- |
| Financial product | Tiered account | Fixed account |
| US Stocks/ETFs | $0.0005 to $0.0035 per share ($0.35 minimum per order) | $0.005 per share ($1.00 minimum per order) |
| US Options | $0.15 to $0.65 per contract ($1 minimum per order) | $0.65 per contract ($1 minimum per order) |
| US Futures | $0.25-$0.85 per contract | $0.85 per contract |
| Spot Currencies | 0.08-0.20 basis points x Trade Value per order ($1-$2 minimum per order) | 0.08-0.20 basis points x Trade Value per order ($1-$2 minimum per order) |
| US Bonds | 0.2-10 basis points x Face Value ($1-$5 minimum per order)  | 0.2-10 basis points x Face Value ($1-$5 minimum per order)  |
| US Mutual Funds | Lesser of 3% x Trade Value or $14.95 per transaction | Lesser of 3% x Trade Value or $14.95 per transaction |
| CFDs | Share CFDs: $0.003-$0.005 per share ($0.65-$1 minimum per order) | Share CFDs: $0.003-$0.005 per share ($0.65-$1 minimum per order) |
Other than the listed fees, there may be additional third-party fees, such as regulatory fees, exchange fees, clearing fees, and pass-through fees (usually a very small fraction of the trade).
To see the detailed fee structure for the markets and financial products that are of interest to you, alongside third-party fees, please visit this link. 
It is important to note that you may come across older information about IB having a minimum deposit and an inactivity fee, but both have been levied in recent years.
Users can deposit funds directly in AED currency but will incur relatively low currency conversion fees (listed above) when purchasing assets listed in other currencies.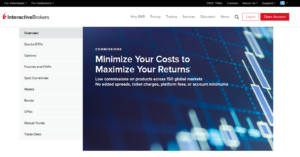 Markets & Products
The wide choice of financial products is one of the biggest pros of using Interactive Brokers. Having access to over 150 global markets and the most popular financial products, chances are that this platform will have the product you are looking for. 
Financial products include stocks, bonds, ETFs, mutual funds, currencies, options, CFDs, and futures. However, cryptocurrency trading is not available for UAE investors. See the table below for available financial products:
| | |
| --- | --- |
| Product | Available? |
| Stocks | ✔ |
| ETFs | ✔ |
| Bonds | ✔ |
| Funds | ✔ |
| Options | ✔ |
| Futures | ✔ |
| Forex | ✔ |
| Cryptocurrencies | ✘ |
| Commodities | ✔ |
| CFDs | ✔ |
A full list of global markets on which you can find these products can be found by visiting this link.
Interactive Brokers also offer margin (leveraged) trading, subject to different requirements, such as portfolio size, frequency of trading, and trading experience. Margin loan rates have been rated as the lowest on the market by the site stockbrokers.com.
It is important to note that Interactive Brokers does not offer an option of an Islamic swap-free account and that fractional share trading is only available for US stocks.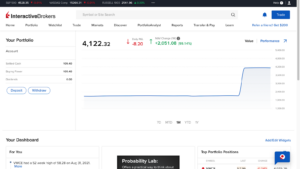 Safety and Regulation
Interactive Brokers is regulated by top-tier financial institutions such as US Securities and Exchange Commission (SEC) and the UK Financial Conduct Authority (FCA). It is a member of the NYSE, FINRA, and SIPC. It is also publicly traded on the NASDAQ exchange and is overall considered a reputable and well-regulated broker, being in business since 1978.
When opening an account from the UAE, you will be opening it through the subsidiary "Interactive Brokers LLC", which is under the Securities Investor Protection Corporation ("SIPC") for a maximum coverage of $500,000 for your assets (with a cash sub-limit of $250,000) per investor. Nonetheless, it is not licensed by the local UAE regulators (DFSA and ADGM) and does not operate a local UAE office.
Platforms and Tools
There are three ways to access the Interactive Brokers trading platform:
All three applications offer many basic and advanced features, with the desktop application being most suitable for power users. However, for most investors, the web and mobile applications offer more than enough in terms of features.
The mobile app is probably going to be the primary app of choice for beginner investors since it is a bit simpler to use than web and desktop applications.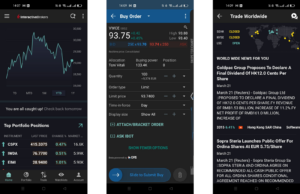 Some of the features available on all three applications include:
Portfolio and positions performance over time

Fund depositing and withdrawal

Executing trades

Setting watchlists

Transactions history

Latest financial news

And many more
Account Opening
How to open an account
The account opening process is somewhat lengthier and more complex than at some other platforms. The usual personal information, documents, and a photograph are required to confirm your identity. Other than that, Interactive Brokers also requires info about your previous experience which determines which financial products you will have an access to.
Also, you can choose between different fee structures (Tiered or Fixed), although that can be changed later easily in the account settings.
Deposit
After the account has been verified, you will need to deposit funds in order to make trades. This process is also more complex than average. You will have to go to Home – Deposit – Use a new deposit method. In UAE, only the bank wire is an acceptable deposit method.
After a deposit method has been created, you need to select it and enter the desired deposit amount and an optional transaction reference number in order to get the transfer instructions. Only then you can actually deposit the funds by using your preferred deposit method.
It is important to note that there is no minimum deposit on regular (cash) accounts, but there is a $2000 minimum deposit for margin accounts.
Supported currencies
Interactive Brokers supports 24 currencies in its account, including USD, AED, AUD, CAD, CHF, CNH, CZK, DKK, EUR, GBP, HKD, HUF, ILS, JPY, MXN, NOK, NZD, PLN, SAR, SEK, SGD, TRY, ZAR and KRW (with special conversion functionality).
For currency exchange, there are 100+ currency pairs available and spreads are as low as 1/10 PIP. Currency exchange fees are also low, being 0.08-0.20 basis points x Trade Value per order ($1-$2 minimum per order).
Demo account
If you are not yet an Interactive Brokers customer, you can try the platform out free of charge by opening a free trial account. It gives you access to all IB's platforms, market data for all products, research and news platforms, advanced trading tools, and the ability to compare fees with other platforms. You can also convert it to a live account later on by finishing the application on their website.
If you already have an Interactive Brokers account, then a demo "Paper Trading Account" is automatically created for you. It can be found by going into Settings – Account Configuration – Paper Trading Account. There you can create a separate User ID and password for the Paper Trading Account and then wait for the confirmation email.
Customer Support & Reviews
Interactive Brokers' customer support is available through three channels:
There is also an extensive FAQ section with a search function and question categories.
That being said, there have been mixed reviews of their customer support. You can see some of their customers' experiences on an independent review platform Trustpilot, where they hold a 3.8 (out of 5) rating at the time of writing this article.
Their mobile apps have also gotten a mixed bag of favorable and less favorable ratings and you can see their current ratings and reviews on the following links for the Google Play Store and Apple's App Store.
Bottom line
To sum it all up, Interactive Brokers is a reputable platform with a wide variety of financial products for both beginner and advanced users. Some of the other most important pros of the platform include low fees and spreads, no activity fees or minimum deposits, and the choice between desktop, web, and mobile-based apps.
The most important cons are the steep learning curve of the platform and somewhat complex account opening and fund depositing processes. Customer reviews and support seem to be a mixed bag.
Overall, it is difficult to find a broker which ticks so many boxes and is available in such a large number of countries, markets, and currencies as Interactive Brokers.
Did we provide you with the necessary info to decide if Interactive Brokers is the right choice for you? Let us know what you think about our review in the comments below!