Investing can be a daunting task, but with the rise of digital platforms, it has become more accessible to everyone. 
In this series, we will review platforms born in the UAE, that are competing with the large international players that are already established or are planning to establish themselves in the region, so that you can decide if this is the right platform for you.
Below, we'll uncover the pros and cons of Sarwa as well as the different services it offers (Invest, Save, Crypto, and Trade). Keep reading!
Overview
Sarwa is a Dubai-based digital wealth management platform that offers investment solutions to residents in the UAE, Kuwait, Bahrain, and Saudi Arabia. 
The platform offers a range of solutions, but their main major strength is Sarwa Invest, their robo-advisor that enables clients to have diversified portfolios, through low-cost ETFs, using technology to make the task of investing simple. You can log-in to track your investments, or put it on cruise control and never think about it again. 
Pros
Low fees: relatively low fees especially compared with UAE local banks

Accessible: online platform, no need to visit a local branch. You can start with very small investment amounts and the onboarding is easy

Diversification: offers diversified portfolios across different asset classes, using modern portfolio theories to maximize risk-adjusted returns

Transparent: Sarwa is transparent about the fees, performance and investment strategy

Referral Bonus: New users get a $50 referral bonus.
Cons
Limited investment options: this may be a disadvantage for investors looking for more  specialized or niche investment solutions, like options trading

Limited customization: they offer some additional features (crypto, halal, SRI), but this might be limited for those with other investment objectives

Limited human interaction: Sarwa is fully automated, although their customer service is great and you have occasional access to their advisors

Relatively new: this may be a concern for those looking for more established names as Sarwa was launched in 2018
Sarwa Invest
Their philosophy is to offer easy, affordable, transparent long-term investment solutions to their clients. This is probably the best solution for those who are looking to invest the money you save every month, without the hassle of having to learn and understand where/how to invest and let emotions ruin your decisions. 
You can set auto-deposits, when the money reaches your Sarwa account, their technology will automatically invest the cash according to the strategy, using smart rebalancing techniques and reinvesting dividends to make sure the money is working for you. Their strategies are back-tested and based on modern portfolio theory aiming at maximizing returns for a given level of risk. 
This is what is called a robo-advisor: they invest in low-cost index funds, based on your risk profile. They use their technology to offer easy rebalancing, dividend reinvestment and tax optimization. They offer six risk profiles (from the most conservative to the most aggressive) and you can personalize your portfolio with one of the following features: Crypto, Halal, or Social Responsible Investing. 
On their website you can see the asset class breakdown of the different profiles, you can learn more about the ETFs they use and you can even see the back-tested performance of each strategy and see how your initial contribution would have grown over time, as well as historical performance for different periods. 
The table below shows the asset class breakdown and respective ETFs for the different profiles of the Conventional Portfolios:

Then, these profiles can be adapted if you choose the following features:
Conventional Crypto – add a 5% allocation to Crypto/Bitcoin (GBTC) across the different profiles

Socially Responsible – Equity ETFs will be different, using ETFs that are more ESG focused. 

Socially Responsible Crypto – Combination of the above

Halal – using a different mix of ETFs that are compliant with Shariah investment principles. 
The chart below shows the historical performance of the different Conventional profiles. The returns are annualized, for the period from December 2008 to December 2022. 

Their pricing is quite attractive. Pricing ranges from 0.85% to 0.50% for management depending on the account balance, plus 0.1% for the ETF fees. Replicating the same strategies in local UAE banks would cost multiple times more. You can start with as low as $5.0 and the first year you don't pay commission. See pricing table below: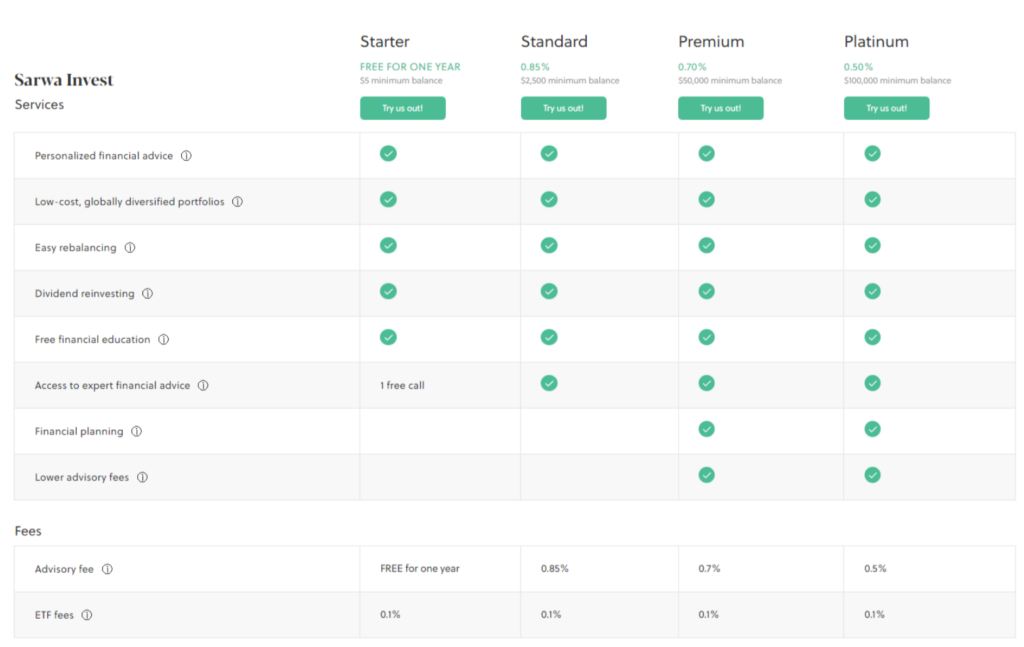 Other features:
Add a beneficiary –

Giving clients the right to nominate a beneficiary for their individual Sarwa Invest accounts, who become entitled to receive the proceeds of the Sarwa Invest account in the event of death. Not many providers provide such a feature. 

Customer service –

Their customer service team is quick, responsive and very helpful.

Investor Protection –

Sarwa partnered with Saxo Bank for the custody of the assets. They are regulated as a bank by the world's top regulators: Saxo Bank is a fully licensed Danish bank regulated by some of the world's top regulators: Finanstilsynet (the Danish FSA), under the EU Banking and Investment Directives. They are pioneers in Fintech with over 28 years of experience as online brokers. 

Need Advice?

You can call, Whatsapp or email one of their dedicated advisors. 

Account Opening –

the process is very simple and you can open your account in 10 minutes (less if you type fast). 

Depending on your bank, you can enjoy free transfers to Sarwa from your UAE locals banks. You can transfer in AED and they will convert to USD at a rate of 3.6823 (1 USD = 3.6823 AED). All assets will be denominated in USD. 

DCA (Dollar-Cost-Averaging) Schedule:

if you are planning to invest $15,000 or more, instead of investing the lump-sum into the markets right away and be exposed, you can use their DCA strategy to split the amount you plan on investing in equal amounts into your portfolio on a regular basis over a period of time (i.e. you have $20,000 to invest, instead of investing the entire $20,000 in one go, you can ask them to deploy it at a specific date on a monthly basis, over a period of 3 to 6 months). You need to request this by email.  

Referral Scheme:

refer a friend to Sarwa Invest and both of you will receive a $50 bonus on your accounts.

You can use this code

.

Networking events

: They often organize events, where you can meet the team and meet other like-minded investors. 

Backed by key investors

: They are financed by many well-known local and international players like Mubadala, 500 Startups, Kuwait Projects Company Holding (KIPCO), Abu Dhabi Investment Office (ADIO) to name a few. 

Multiple Accounts and Joint-Accounts

: You can set up different accounts for yourself (i.e. you can have different portfolios for different saving objectives) and you can have joint-accounts (ideal for couples). 
Sarwa Trade
Allows you to trade with zero commission thousand of US stocks and ETFs in minutes with as little as $1. 
Other features include:
Access to 4,000+ US stocks and ETFs

Historical data and daily stock prices, company profiles and real time news on the most frequently traded US stocks 

Fractional shares

No international transfer fees 

Real time news on the most frequently traded US stocks 

Fast sign-up process
On the downside, the range of products and markets it offers is way more limited than other competitors like Interactive Brokers. it lacks some asset classes, like single bonds, options, commodities, and others.
All in all, it is a great solution for beginners or those who want to invest in US stocks & ETFs for the long-term.
Sarwa Crypto
In this segment they provide access to top cryptos and offer trading of top cryptos (like BTC, ETH, BCH, ALGO, DOGE, GRT, AAVE, BAT), with:
Zero commission

Low spreads of 0.75%

Buy in bulk or in fractions

Possibility to start with as little as $5 only
In terms of storage, the cryptos are stored with Alpaca's exchange partners and their underlying institutional-grade digital asset custodians, and you can access these funds at any time 24/7. 
For the moment, Sarwa is not able to receive your cryptos from another wallet, but they are hoping to add this functionality in the future. 
Sarwa Save
Recently they introduced this new option, to place cash in a high-interest, off-shore account with attractive rates. 
At the moment, they are offering a rate of 3% p.a. No doubt you can find more attractive rates if you lock your capital on some bank's fixed deposit, but their 3% is 4x the average rate offered by the saving accounts of local banks in the UAE. 
Main features:
There are no minimum amount requirements

No management/processing fees

Very high liquidity (you literally decide for how long you keep the money there, no lock-up periods, just like a cash account that you can withdraw at no cost).  
Sarwa Save accounts hold the deposits in USD. Sarwa is able to offer these relatively higher rates through their banking partners like Saxo Bank. 
They also offer a Halal option with a projected return of 3%, using Emirates Islamic Money Market fund, which charges a management fee of 0.5%. They ensure the returns are shariah compliant.
Is Sarwa Safe?
Sarwa is licensed by the Dubai Financial Services Authority and by the Financial Services Regulatory Authority of Abu Dhabi.
You assets and cash are held at top-tier custodian banks such as Saxo Bank. In the event of bankruptcy, there would be protection from regulatory compensation funds that would cover up to a certain amount (more about it here).
Furthermore, the transparency in the business, the team behind the project, and the well-known investors backing this start-up are good signs of safety.
Conclusion
Sarwa's hassle-free investment management process makes it an attractive option for investors who are looking for a straightforward and accessible way to invest their money. 
The platform's automation features and focus on user-friendliness help to minimize the effort required from investors while still providing a transparent and diversified investment portfolio. Probably the best solution for those who want to invest part of their monthly savings on a regular basis and let that money grow over time. They also offer other solutions like Sarwa Save, Sarwa Trade and Sarwa Crypto, but their best solution is definitely Sarwa Invest.
Hope you've enjoyed our Sarwa review, and feel free to let us know in the comments below what else you want to know about the company!